Mobile Car Service Adelaide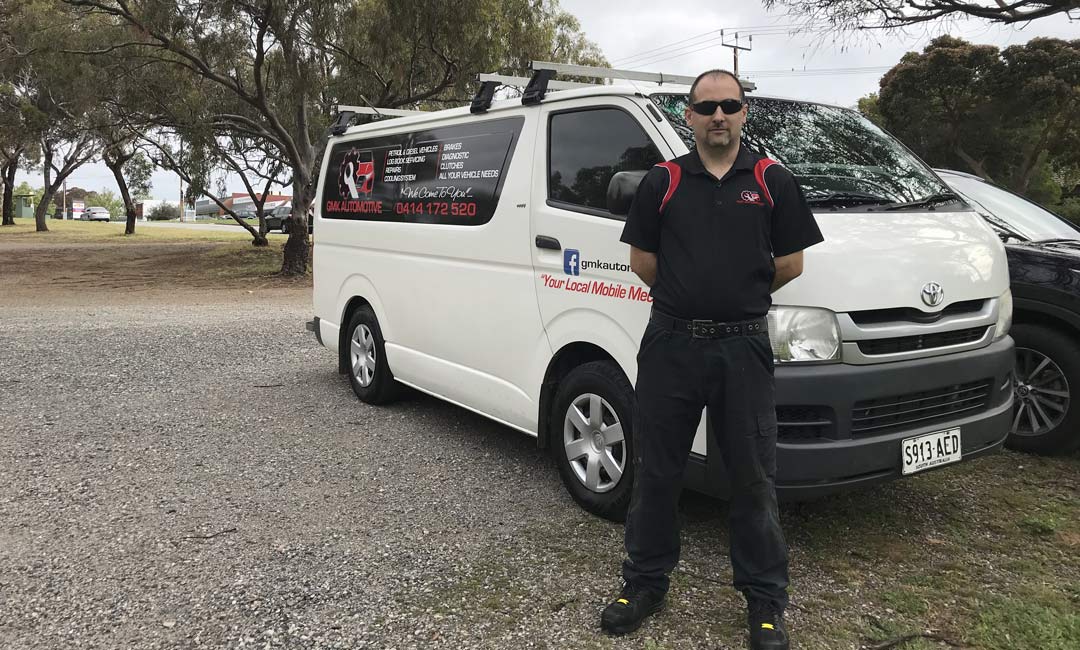 Mobile car service Adelaide
Enjoy the benefits of mobile car servicing by having your vehicle serviced at a time and a place that suits you. For mobile car service in Adelaide, trust GMK Automotive. With over 20 years of experience in the automotive industry, rest assured that your family will be safe on those long journeys ahead. Your trusted mobile mechanic in Adelaide will have your vehicle running right whenever suits you. From your office parking lot, to the driveway of your own home, trust GMK automotive as your mobile car mechanic in Adelaide.
Complete service solution
Log book servicing – Keep your vehicle in perfect working order for a fraction of the price compared to the dealer. Trust GMK Automotive for all your log book servicing needs.
General repairs – From replacing blown headlight globes and fuses to complete clutch replacements, we have specialist tools and know how to get the job done.
Brakes – Undoubtedly the most important safety system of a vehicle that must be maintained. If you hear strange noises, shuddering while braking or your vehicle is displaying a brake system failure, have you vehicle looked at immediately.
Diagnostic – With the latest electronic diagnostic tools on hand, the team at GMK Automotive can have those warning lights looked at and the faults properly diagnosed.
Cooling – During the summer months, the cooling system of a vehicle is put under immense strain, having your vehicle cooling system inspected and regularly maintained is key in preventing costly and inconvenient breakdowns later down the track.
Convenience of mobile car service Adelaide
Here at GMK Automotive we take pride on being 100% mobile, we come to you wherever that may be. Our customers love the convenience of having their car serviced or repaired at a time that suits them, saving them time and money.
Sourcing the right parts for you
With over 20 years of experience in the industry, we know the right people and places to source the right part for your car. No matter the make or the model, we can source the right part for your vehicle at a fair price. From genuine to aftermarket parts, we can have your vehicle repaired on a budget that suits you.